Hollywood Hayes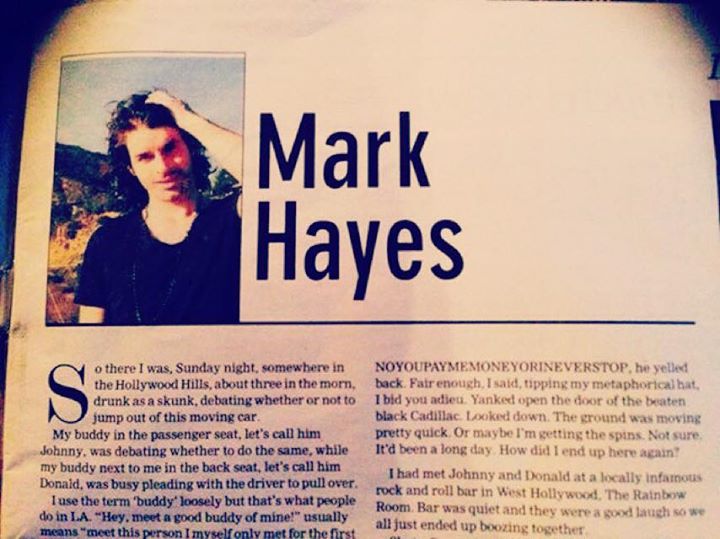 New weekly column of mine in the Irish Examiner. Read on! COLUMN 
So there I was, Sunday night, somewhere in the Hollywood Hills, about three in the morn, drunk as a skunk, debating whether or not to jump out of this moving car.
My buddy in the passenger seat, let's call him Johnny, was debating to do the same while my buddy next to me in the backseat, let's call him Donald, was busy pleading with the driver of the car to pull over.
I use the term 'buddy' loosely but that's what people do in LA. "Hey, meet a good buddy of mine!" usually means "Meet this person I myself only met for the first time ten minutes ago." I had met my two boozing buddies about four hours ago.
I also use the term 'driver of the car' loosely. This guy was a charlatan. Picked us up outside a bar on Sunset, lying that he was the Uber we ordered. When he kept getting lost we asked why he didn't know where he was going. Started shouting that he was not Uber, just a guy in a car, and we needed to pay him $50 cash if we wanted him to stop the car. Can't beat a bit of extortion, nice.
Anyway, we refused to pay him and he refused to stop. Started shouting like a maniac. Sounded like he was talking in African tongues. We all got a bit freaked.
Idea pops in my head: Jump out quick before he kidnaps you. Like MacGyver would. Or Tom Cruise. Yeah, Tom Cruise would jump out of this car and roll to safety. Who cares if he's driving about 10 miles per hour, that's slow, right? After a long day of boozing, I decide to ask my brain for his opinion before doing any drastic.
You'll be fine, my brain told me, just jump out and hit the ground running at 10 miles per hour. You'll land on your feet and run to safety.
Good call, I told my brain, good call.
Announced my great plan to the rest of the car. Donald next to me responded with a smile and asked if I needed a massage. Nice and helpful. Turned down his kind offer so he offered the driver a massage instead.
Tapped Johnny in the front seat: I'm going to jump. Out of the car, he asked? Yes, I said. Are you insane, he replied? No, we'll be fine, just jump out and start running. Physics. My brain. I had it all planned out. OK, he said after a second, You first.
Asked the driver one last time if he would stop the car. NOYOUPAYMEMONEYORINEVERSTOP, he yelled back. Fair enough, I said, tipping my metaphorical hat, I bid you adieu.
Yanked open the door of the beaten black Cadillac. Looked down. The ground was moving pretty quick. Or maybe I'm getting the spins. Not sure. It'd been a long day. How did I end up here again?
I had met Johnny and Donald at a local infamous rock and roll bar in West Hollywood, The Rainbow Room. Bar was quiet and they were a good laugh so we all just ended up boozing together.
Shots. Booze. Banter. Flying. Chatting to people. Getting drinks bought for us. Turns out Johnny has to be up at seven in the morning for a call time, just landed a big role on a popular TV show over here. Ha ha, I tell him, buying him another whiskey. Two in the morning, you might as well stay up.
Donald tells us he has a party for us to go to. Close enough. Should we go? Johnny is up for it. I'm dancing. Rare to find fun people to go boozing with here. Don't stop me now, I tell my brain. Plough on, my brain replies.
Call an Uber. Car pulls up. Black Cadillac. Uber? Yes. Fair enough. In we jump. Party's close. Drive a few streets away. Three jolly clowns, unknowingly being kidnapped.
Hurry up and jump, my brain tells me. Fair enough. I'm jumping, I tell Johnny. Fling myself out of the car right as the driver accelerates. My plan to hit the ground running goes out the window.
Feet hit the floor then gravity and physics do the rest. Tumble, stumble, roly-poly and end up on my back staring at the sky laughing. Nothing feels hurt. Mighty.
Look over to my left at the Cadillac. Stopped for a second at a Stop sign. Johnny jumps from the stationary car. Dives face first into the ground. Takes a far worse fall than me. Car takes off again then screeches to a halt fifty metres up the road. Donald gets out, massaging his chest,
"I paid him $50, guys, it's cool."
Mighty. We jumped for nothing. With that, dusted ourselves down and walked home to our separate abodes. Fun night. So yeah, like that adventure, this column might not have rhyme or reason. Welcome to Hollywood Haze.
Tags: America, Books, Booze, Columnist, Comedian, DJ, Drink, Drugs, Fun, Ireland, Irish Examiner, LA, Lemmy, Mark Hayes, Music, Porn, PreDumb, Rainbow Bar, Randumb, RanDumber, West Hollywood, Writer, Writing