I Want To Be The Best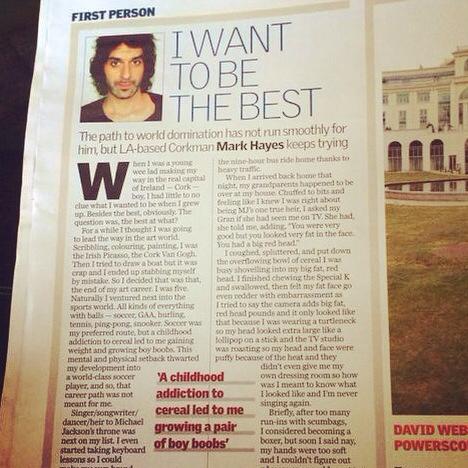 http://www.independent.ie/opinion/your-voice/first-person-mark-hayes-i-want-to-be-the-best-30457187.html
When I was a young wee lad making my way in the real capital of Ireland, Cork, boy, I had little to no clue what I wanted to be when I grew up. Besides the best, obviously. The question was, the best at what?
For a while I thought I was going to lead the way in the art world. Scribbling, colouring, painting, I was the Irish Picasso, the Cork Van Gogh, the next big thing! Then I tried to draw a boat but it was crap and I ended up stabbing myself by mistake. So I decided that was that, the end of my art career. I was five-years-old.
Naturally I ventured next into the sports world. All kinds of everything with balls – soccer, GAA, hurling, tennis, Ping-Pong, snooker. Soccer was my preferred route but a childhood addiction to cereal lead to me gaining weight and growing boy boobs. This mental and physical setback thwarted my development into a world-class soccer player, and so, that career path was not meant for me.
Singer/songwriter/dancer/heir to Michael Jackson's throne was next on my list. Even started taking keyboard lessons so I could make my own brand of EuroDance, just like my idols at the time, 2Unlimited. An unfortunate pants wetting incident, plus the fact my teacher insisted I learnt the basics of piano before diving into the production side of things, hampered my progress in the musical world. I quit after five months or so, left only with the ability to pretend to be able to play Greensleeves.
The singing side of things wasn't much better. Besides in the comfort of the shower where the water covering my ears drowned out what I actually sounded like, I never sang in public or in front of anyone, even myself. Much preferred to live under the illusion that I was a great singer, rather than face the facts I might not have all the high ranges I hoped for. Self-delusion all the way.
I did sing in my school choir though, so I could definitely sing somewhat. Or else maybe just mime along in a convincing manner. We did all appear on TV one day, TG4, singing Christmas carols. That was great fun, the seven-hour bus ride up to Galway from Cork, the fifteen minutes in the roasting hot studio where no one knew what was going on, followed by the nine hour bus ride home thanks to lengthy traffic.
When I arrived back home that night, my grandparents happened to be over at my house. Chuffed to bits and feeling like I knew I was right about being MJ's one true heir, I asked my Gran if she had seen me on TV. She did, she told me, adding "You were very good but you looked very fat in the face, you had a big red head."
I coughed, spluttered, and put down the overflowing bowl of cereal I was busy shoveling into my big fat red head. Finished chewing the Special K and swallowed, then felt my fat face go even redder with embarrassment as I tried to say the camera adds big fat red head pounds and it only looked liked that because I was wearing a turtle neck so my head looked extra large like a lollipop on a stick and the TV studio was roasting so my head was face and puffy because of the heat and they didn't even give me my own dressing room so how was I meant to know what I looked like and I'm never singing again. With that, my cereal comfort eating addiction grew stronger and the world was robbed of my moonwalking, crotch-grabbing and high-pitched "Come on!" Such a shame.
For a while, after too many run-ins with pikeys, I considered becoming a boxer of some sort but soon I said nay, my hands were too soft and I couldn't figure out why anyone would want to be punched in the face.
The glamorous world of fashion and hairdressing (work experience in school) came knocking on my door next, but one incident with Goth heels and broken toes, and another incident with a bleeding granny turned me off both of those professions for life.
How about being a philanthropist? I asked myself one day. Maybe? I answered back to myself in the mirror. Unfortunately the next day when I did venture down this route I ended up on the wrong side of the law, so that cell door was shut in my face.
Many more career attempts since: Carpet mover, nightclub promoter, bar man, bar boy, bar manager while still a boy, kitchen cleaner, chef, Dunnes Stores bag boy, car wash boy, rent boy, wax hands maker, carnival boy, lemonade salesman, German gun translator, Shamwow salesman, rent boy again, travel companion and DJ at a gay gym, to name but a few.
Oddly enough, none of the above prepared me for what I currently do: Write down my adventures turning them into books and stand up on stage telling people stories. Any good? I hear you say. Meh, mediocre, at best.
Which means I am the best at being mediocre. So yeah, I've achieved my boyhood dreams. Giddy up!
My new book PREDUMB: BEFORE I CAME TO LA is out now. Go forth and buy it for a loved one, they will love you even more.
Tags: Author, Book, Books, Child, Clothes, Comedian, Comedy, Cork, Dublin, Examiner, First Person, Funny, Hollywood, Independent, Irish, Irish Independent, Mark Hayes, PreDumb, Schoolboy, West Hollywood, Writing