The Insider's Chancer Guide to Hollywood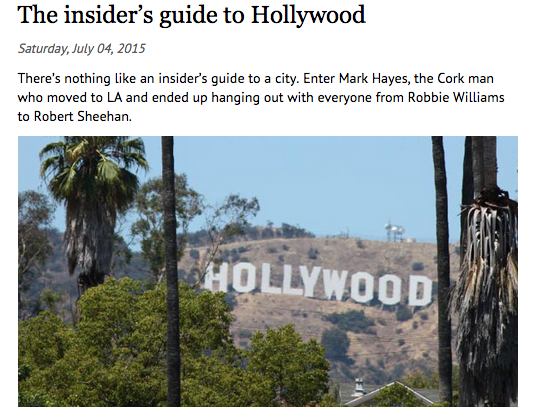 (Article of mine that was in the Examiner recently ->Read on!)
For the sake of your holiday needs, I'm just going to assume you're single/a young couple/just married and bored already thinking oh no I thought this would make my life more interesting but no/married with kids and wondering where it all went wrong but resigned to the fact that this is your life now/gay/straight/unsure.
Above all, I'm going to assume you're a chancer.
So you're here. You made it. You took the plunge and now you're on holiday in Hollywood, walking along the boulevard of broken dreams, thinking, 'This is all a bit grimy', when a friendly looking chap with a big round smiling face comes up to you and says: "Fun Fact: Did you know the stars on Hollywood Boulevard are actually gravestones for deceased celebrities? I didn't even know Drew Barrymore was dead!"
Your first mistake was believing that fun fact. Schoolboy. Drew Barrymore is still alive and well. Unlike you, who's probably being robbed right now after accepting a hug from this strange man.
Insider tip #1:
Hollywood is full of pigs and charlatans. Be on your toes at all times. Be tense. Uptight. Paranoid.
I know it's your holiday and all but you can never relax in Hollywood. You never know who's out to get you. Know where your wallet and phone are at all times. Better yet, wear a bumbag.
Who cares what you look like, passion over fashion. Keep your valuables safe/all in one convenient place for pickpockets and thieves. It's the right thing to do.
Insider tip #2:
Don't stay in Hollywood, stay in West Hollywood. Trust me, it's better. Hollywood is dodge at night, dirty looking during the day (like me, some say). West Hollywood is cleaner, safer and affluent (like the person I aspire to be).
Have you ever seen the TV show The Hills? It's the real reason I moved to LA. And almost all of that is set in and around West Hollywood.
During the day you can stroll along Melrose and Robertson for all your boutique, funky clothes, slightly out of your budget, Jesus how much is this t-shirt, I'll just buy this $24 pair of socks instead, shopping needs.
You have the Grove, a Disneyland like outdoor shopping centre that I would highly recommend going to on a Saturday afternoon when it is at its busiest and you are very hungover, just so you can truly feel what hell is like.
 Mark Hayes having a 'pre-drink' beverage with buddies Rob and Joe on Sunset Boulevard.
Up on Sunset, you have many classic rock venues such as Whiskey a Go Go, The Body Shop, and The Viper Room where you can go take great photos of you just standing outside a closed door.
Down the street you have Book Soup, my favourite bookstore in the world, possibly because they sell my three books and have them as their top recommended comedy books. We all need a good holiday read.
Nearby you have the riches of Beverly Hills and Rodeo Drive where the streets are paved with gold and a ridiculous amount of Persian people, a place where everyone will look down on you for wearing flip flops while you wander around in awe at seeing 13-year-olds driving Maseratis, hearing people say everyday things like "Bread is for poor people", "I'm so broke, I only have $20,000 to last me until Monday" and "Ugh, who let you into Beverly Hills?"
At night, you have nightclubs on Sunset that are so cool they don't even have a name, where grumpy, beautiful, straight people queue up while trying to look cool and hip waiting to get into their table that only cost them $4,000.
Here you can meet some of the best looking women in the world who will pretend to flirt with you until you realise they're actually being paid to be there and honestly have no interest in you whatsoever unless you're Leonardo Di Caprio or Jared Leto (or have an Irish accent, glorious hair and they mistake you for someone else).
Right in the heart of West Hollywood, you have the fun and friendly bars in Boys Town, the gayest and safest neighbourhood in the world where you don't have to queue up for hours and they actually play good music.
Up the street is Soho House, an exclusive members-only bar. Probably useless to you unless you know a member who can get you in but don't worry, you're not missing out on much.
It's mostly English people who would love to be famous and act like celebrities but really, they're pretentious nobodies (like myself).
Scattered here and there are some good hotel bars and actual fun spots like The Den, SkyBar, Bar Marmont, Hudson, Hyde, Laurel Hardware.
Depends what you're after but these places are probably your safest bet. Except on a Tuesday night. Everywhere seems to be crap on a Tuesday night.
Nightlife really all depends on your budget. You haven't really felt The Fear until you wake up with West Hollywood drink receipts in your pocket.
How did one vodka-soda cost $18 and who was I buying rounds for, those thieves! Being Irish, we know how to get around that.
Insider tip #3:
Pre-drink. Pre-drink. Pre-drink. Nag. On. It'll make your night cheaper and your hangover easier to deal with.
After the night out, you'll be wanting food, I suppose. Brunch is stupidly popular here. I find them very tiring, what with all the fake laughing and whatnot, but, seeing as you're in Rome.
Most popular brunch places to go to are along 3rd street in West Hollywood — Jones, Toast and Pineapple to name but a few.
Here you can get a glass of orange juice for only $14 and a small bowl of porridge for only $24 while overhearing many tables repeat phrases like "That's soooo funny, I actually almost lolled."
Night time you have all sorts of restaurants in West Hollywood, Hollywood and Beverly Hills, all of which are great especially if you like teeny tiny small fancy portions. A real treat.
I like Mr Chow's and The Little Door but my taste buds and sense of smell are awful so what do I know.
One great thing about a lot of these places is that they're very hip, serving drinks in dirty jam jars instead of glasses, and food arrives on a vintage shovel instead of traditional, boring old plate. The West Hollywood experience.
Insider tip #4:
Eat at Chipotle. It's unreal. Mexican style salads, burritos, not sure what else but Christ on a cracker it's savage. Only $10 per person. Done. My favourite place to eat, bar none.
Now you've eaten, shopped, and drank, I suppose you're wondering what else to do?
Insider tip #5:
Try and spot a celebrity early in your trip. It will put you at ease and give you something to talk about when you go home.
The first night my sister Sarah came to visit me, the rapper Drake was sitting next to us at the restaurant.
Sarah proceeded to scream silently, flop to the floor and melt into a puddle of joy. It was great, getting that out of the way early, meant we could all finally relax.
So, get your Kardashian hunt on, go on the tour buses that show you around where the celebrities live, find out the latest health craze and where they sell it, just spot a celeb early and your trip will instantly become more fun.
Insider tip #6:
Everything is too spread out in LA so you need a car. Rent a Mustang. Embrace the fact no one in LA uses their indicator. Know what real road rage feels like.
Now you have a car, drive to the beach. Santa Monica is nice enough. Venice is cool to see. Malibu is where it's at though. The sandy white beaches here are unreal.
There's a place called Paradise Cove that's good to see. They charge you $10 to get in but they have a restaurant and a cliff and water and it doesn't actually feel like you're in LA, which can be nice for a change.
Plus there are a lot of seagulls who have zero respect for you and your things so you can spend a lot of time chasing them away while also being chased by said seagulls.
Fun Fact:
Last time I was at Paradise Cove, a seagull flying overhead dropped a nice little bomb into the glass I was literally drinking out of and then another seagull swooped down and stole my sandwich, it was amazing.
Insider tip #7:
Don't bother going downtown, to Silverlake or the Valley. There's no point.
Insider tip #8:
Go to the Griffith Observatory. Good views and space shows.
Insider tip #9:
Live it up a little. Stay at the Ritz-Carlton.
I recently stayed here myself for a night. Good to have a break now and again. My friend was in town and invited me to come stay for the night, it'd be rude not to.
Nice spot, although, for a room that cost $900 per night, they had some nerve charging an extra $15 for wifi. Chancers.
Insider tip #10:
You don't have to be a hotel guest to lay out at the fancy hotel pools.
If you don't want to go all the way down to the beach most hotel pools have a DJ, beautiful people and great views. Who cares if you feel like a pink pig uncomfortable in the heat and your own skin, these pools can be fun.
You get the LA experience even though you might be staying at the cheap motel next door, win-win. I recommend the SkyBar, Standard and Roosevelt hotel pools.
Insider tip #11:
Make friends with rich people.
Talk to strangers at the hotel pools. Make friends. Tell them you're Irish. You might end up staying the night at the Ritz-Carlton, you never know.
Insider tip #12:
Beautiful women in tight black dresses sitting alone at West Hollywood hotel bars might/almost 99%/definitely are prostitutes.
Insider tip #13:
Go to the Comedy Store. Best spot to see upcoming comedians mixed with the cream of the crop (Louis CK, Chris Rock, Bill Burr). Never know, you might be lucky enough to see me perform.
Insider tip #14:
When in Hollywood, go with the flow.
You might end up flying to Vegas on a private jet, you might end up at the VIP suite at a Lakers' game, or, you might end up at an orgy at a mansion in the Hollywood Hills. You never know.
Although, be prepared for the men-women ratio being 8:1. Yeah, orgies can be disappointing. Who knew?
Tags: 3rd Street, Al Pacino, Article, Beautiful, Beverly Hills, Bill Burr, Book Soup, Brunch, Chipotle, Chris Rock, Comedy Store, Cork, DJ, Drake, Drew Barrymore, Examiner, Ford, Griffith Observatory, Hollywood, Ireland, Irish, Joans, LA, Lakers, Laugh Factory, Louis CK, Malibu, Mark Hayes, Mark Hayes Examiner, Music, Mustang, Nagon, Orgy, Paradise Cove, PreDumb, Randumb, RanDumber, Ritz-Carlton, Rob Sheehan. Joe Sangre, Robbie Williams, Rodeo Drive, Silverlake, SkyBar, StarDumb, The Body Shop, The Den, The Hills, The Roosevelt, The Standard, The Viper Room, Tourism, Tourist, VIP, vodka, Weho, West Hollywood, Whiskey A Go Go, Women, Writing